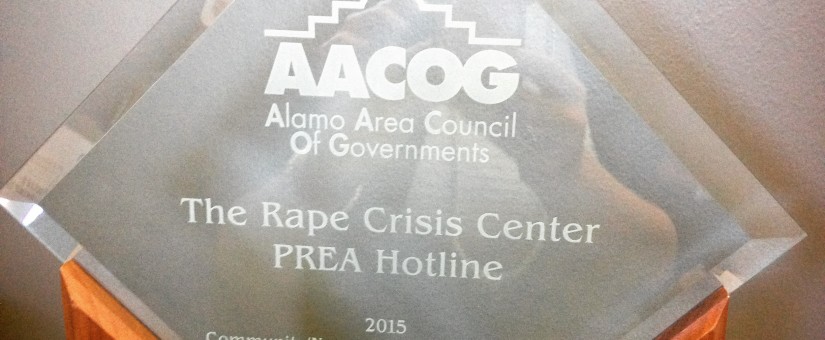 Posted by The Rape Crisis Center
On December 9, 2015
awards, awareness, PREA
The Rape Crisis Center's PREA (Prison Rape Elimination Act) hotline was honored by the The Alamo Area Council of Governments (AACOG), winning the 2015 Community/Non-profit Project of the Year Award on December 9, 2015.
This award has been given out annually since 1974 to community projects that contribute to the significant advancement of the AACOG region and/or any communities in the twelve counties of the Alamo Area (Atascosa, Bandera, Bexar, Comal, Frio, Gillespie, Guadalupe, Karnes, Kendall, Kerr, McMullen, Medina, and Wilson Counties).
The Rape Crisis Center helped create a crisis hotline for incarcerated survivors of sexual violence in collaboration with the Bexar County Jail. The line helps survivors behind bars be heard in their time of need.
When a survivor of sexual violence is incarcerated, the environment can trigger memories of an assault that occurred before incarceration. The crisis staff is there to listen and help them through these difficult times.
Once released, they can come to The Rape Crisis Center for counseling; in the long run, this help during their incarceration enables them to return to the community as a better person.
This work has been taken on by The Rape Crisis Center staff along with their other duties without extra compensation. The Center is one of the few agencies of its kind doing this work.
Click here to see all winners of the AACOG 2015 Regional Awards.
---
Related Post:
BCSO receives grant to help fight sexual abuse in jail