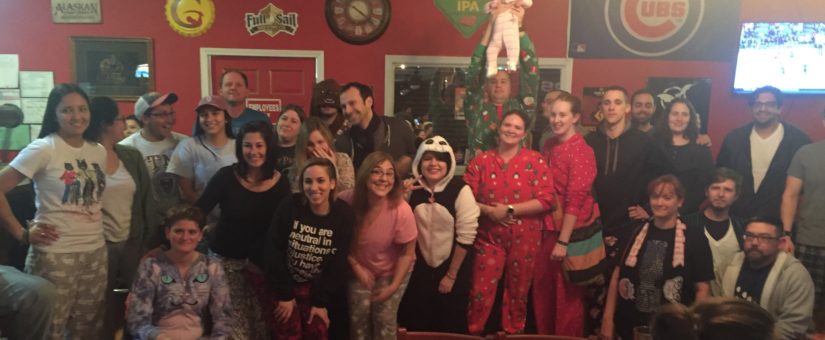 Posted by The Rape Crisis Center
On February 2, 2017
If you haven't made it out to one of our Quiz for a Cause nights with Geeks Who Drink you're missing out! Twice a year we partner with Geeks Who Drink to host a trivia night at a local restaurant. This month there was an added bonus of $1 donated for every person who showed up in their pajamas!
24 teams took over Mad Pecker Brewing Co. restaurant on Wednesday, January 25th for a battle of the brains. After filling as many tables as available, adding chairs here and there, and opening up the patio, we eventually had to stop taking new teams because we were at capacity!
Our fearless QuizMaster Shane hosted the quiz, auctioned off a Geeks Who Drink prize box, "sold" his playlist for the night (which meant listening to "Freebird" and William Hung's "She Bangs"), along with donating $37 out of his own pocket for the 37 people who showed up in their finest pj's. Everything added together we raised $869.84!
Shane wrote about the event in his blog:
…there is one thing that in all the experiences and all the cool things I've been privileged to do in my tenure as a QM here in San Antonio. It's being permitted to help out the Rape Crisis Center…So let's keep looking out for those that need our help like the Rape Crises Center. Because you guys are awesome, and it never fails to make this cold hearted QM tear up when I see how generous you all are.
We are so thankful that Geeks Who Drink offers this opportunity for us to raise awareness for our cause while having an awesome time. It's not always easy to get folks into our spaces to hear about sexual violence and services provided by The Rape Crisis Center so when we have these events in the community that are accessible to more people, it makes an impact.