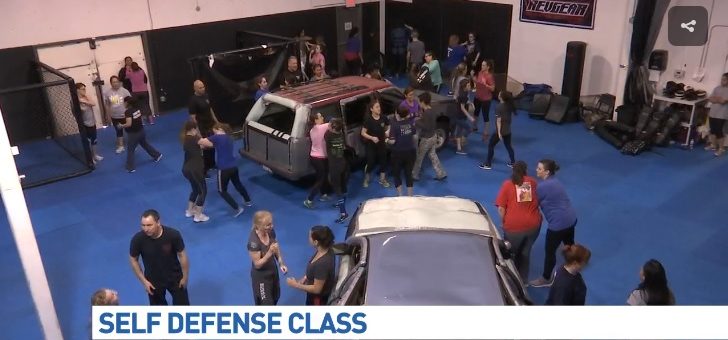 Posted by The Rape Crisis Center
On March 14, 2017
events
Experts say we're seeing a rise in violent crime here in San Antonio.
Bexar County Sheriff Javier Salazar says the increase is consistent with an increase in crime on a national level.
Dozens of concerned women are taking part in a self-defense seminar hosted by the Rape Crisis Center the techniques they learned that could save their life.
"It's going to look real, it's going to feel real, and it's going to be real," said Pete Hardy, an instructor at STW Krav Maga.
Hundreds of women, of all ages and backgrounds, learned from martial arts experts how they can improve their personal safety.
"If I'm in a situation where I get attacked I'm not really sure what I would do so I'm just trying to be more prepared," said Olivia Michael, who was attending the class for the first time.
In Bexar County, the Rape Crisis Center says they receive an average of three phone calls to assist with new assaults each day.
The center hopes training classes like the one held on Saturday will prevent future violent crimes.
"We of course want to emphasize that if you didn't fight back that is in no way your fault," said Brittany Chozinski, a counselor with the Rape Crisis Center.
Most of the women here are going through this class for the first time, like Susan and Sommer Bostick
"I thought it'd be a great thing for us to do together," said Sommer, who is a member at the Krav Maga gym and invited her mother to do the class with her.
"And I agree!" added Susan.
But for some, this class is a part of the recovery process.
"We have a lot of survivors that do come to these sessions," said Chozinski. "And it's an important part of recovery, [for them to] get that empowerment back."
"So many people feel like a victim and this will keep you from feeling that way," said Susan Bostick.
Although they hope they'll never have to use the skills they learned in real life, the class practiced a variety of scenarios to fight off an attacker.
'The wild reality is sometimes you might have to," said Susan.
"You just always have to be on your toes you never know what's going to happen," said Michael.
The Rape Crisis Center says they plan to have another class in August.
By Zach Hendrick, News4