The Big Give
Event Navigation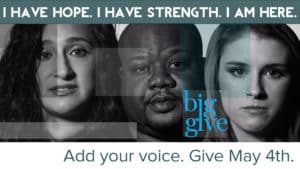 On May 4th we are participating in The Big Give!
You can help us support survivors and work to end violence by
donating that day through our Big Give profile: http://bit.ly/2pir9iG
The Big Give is a 24-hour day of online giving.
Here are some new & exciting ways you can participate this year:
Give early!…starting April 27
The Big Give website will open on April 27! For the first time, you can make your gift early! By giving early you don't have to worry about missing the big day. You won't be able to schedule your donation for a specific day or time, however it all counts towards overall money raised and towards additional prize money.

Join our Power Hour from 2-3PM on May 4th
Did you know that on average we respond to 2-3 new sexual assaults at local hospitals EVERY day? That is how we decided that we would ask our supporters to help us maximize their gift by giving between 2-3PM on May 4th during our Power Hour. If The Rape Crisis Center has the most donors during that hour than we can win an additional $1,000! So please tell your family and friends!
Become a fundraising champion!
This year the Big Give allows you to create and run your own fundraiser for The Rape Crisis Center through a peer to peer campaign. You can set everything up by clicking the "Fundraise" button on our page (click HERE to get to our page).
You'll customize your personal fundraising page with an image, and story about why you are fundraising for The Rape Crisis Center, and a donate button leading directly to our page. Then share your personal fundraising page with friends, family and coworkers to encourage donations!
If you have any questions, want to participate in a matching gift challenge, or would like more information please contact Chloe Power at cpower@rapecrisis.com